In porn lingo, a creampie is when the male talent orgasms and ejaculates inside the female's vagina.
It's so sexy when we use technical language isn't it?
If I had a dirty mind, I'd say that a creampie is when the man cums inside the woman's pussy.
This is the natural way that sex happened, long before there were condoms and hormonal birth control pills. Bareback sex just feels better.
Men and women are both wired to get a psychological thrill out of the internal cumshot, too.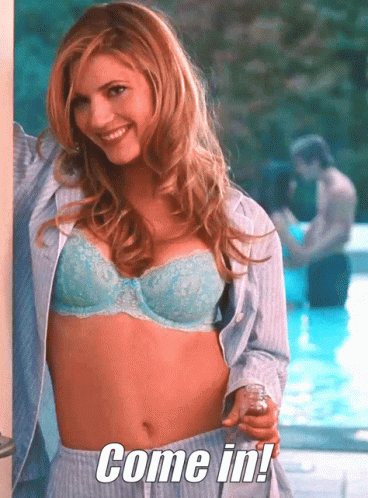 ---
What is a cuckold creampie?
Creampies are special in the world of cuckoldry and hotwifing.
When a man unloads his load inside a woman, it suggests a certain level of trust and intimacy.
Obviously men with this special kink get off on that intimacy being shared around, so it's natural that many a cuck wants to see his wife take another man's seed.
For some couples, the man and the woman partner may have an impregnation fetish. For men, the physical pleasure of cumming inside an unprotected pussy is obvious.
You might be surprised at how many ladies get horny as a rhino when they imagine a hard dick leaving a load inside, though. Have a scan of reddit's r/Breeding section (NSFW) to see all the sightly young lasses ready and willing for a fresh sperm donation.
Since cuckolding and hotwifing hijack all of our emotional brain circuits, it's no surprise that our fetish for sperm-swapping gets recruited to the cause.
Thus the "cuckold creampie" was born! (No pun intended.)
---
What's special about a cuckold creampie?
You might have heard the phrase "safe sex".
The safe part means that, when sharing bodily fluids, a man doesn't transmit an infection to a woman.
Take that literally, it means he won't give her the clap.
If you don't mind playing loose with the word "infection", well, you see the obvious connection with getting her pregnant. Better a load on her tits than a baby in her belly.
That's what you do when you're single. When a couple is at a point of intimacy, you don't have to worry so much about disease, and pregnancy risk can be handled other ways.
Fellas, we all know that nothing much feels better than filling her up when you're done. It's magic. Pulling out just doesn't cut it. Condoms aren't even close.
Ladies, you may or may not notice depending on your preferences. But it's still intimate for you, having a guy climax in you and leave you full.
Nature programmed us with this reponse for a reason. Post-coital bliss feels great because it's supposed to bond us.
Now imagine you've got a cuckold fantasy. You want your special lady to feel amazing. You want to see her toes curl. You want her bull to blow her mind in the sack.
You know exactly how great it feels when you cum inside you girl, and…
You want her pussy to give that feeling to her bull
It only stands to reason you'd want him to complete the act with her, right?
If any of you civilians are reading this, maybe you won't relate.
All the cuckold readers are nodding along and probably playing with themselves. (You might be a civilian who just found out he or she's got a cuckold streak.)
---
Should cuckold couples allow the bull to creampie her?
That's a tough call.
Our kinky porn side says, hell yes! Fill her up and send her home used.
So dirty.
But it will depend on your wife-sharing dynamic. If you're into stag and 'hotwife' play, you've got that call to make between the two of you.
For real ride or die cucks, it's not that kind of decision. A cuckold husband will have no say in the matter. His cuckoldress and her bull will decide that between themselves. A real cuck, the sub who craves humiliation, will no doubt feel intense pleasure from knowing that another guy is inseminating his wife's womb.
When this goes on, it gets into the pussy denial and cuckold chastity fetish, too. Cuck may not be allowed to cum in her, or go in her bareback, or penetrate her at all if there's extreme chastity play going on.
Our sober responsible side says, skip this one.
The hardcore cuckold fantasy is best left as role play, in our humble but correct opinion.
There's a lot of risk to play with for a little kinky excitement.
She might develop feelings for the other guy and lose that intimate connection with her husband. Cucks may want that angle, but there is a fine line between fantasizing and really screwing up your marriage.
But, hey, you know what?
We're here for the fantasy, not the boring lecture.
If you're already in a situation where your hotwife is fucking another guy or five on the side, going in for creampies can make it that much more sexy for husband and wife.
Related posts:
---
Cuckold Creampie FAQ
What is a cuckold creampie?
It's what happens when a cuckold's hotwife allows her lover, or "bull", to have sex without protection and he ejaculates inside her vagina.
The hotwife takes another man's load in her pussy.
Why would a cuckold want his wife to take another man's cum inside her?
A lot of men find the thought incredibly exciting, even if they don't think so consciously.
Evolution built human males to get highly aroused at the thought of their female partners being inseminated by a different male.
For many men and hotwives, the act is extra dirty and extra erotic for that reason.
Should cuckoldress wives have extramarital creampies?
Honestly, the answer is probably "No".
There are a lot of reasons why, which have to do with pregnancy and disease.
There's also the risk of deep emotional connections that sex au natural can cause in the wife and in the guy she's supposed to be just fucking on the side.
Other couples accept the risk, or even make it part of the play. For example, if they have an impregnation fantasy to go along with cuckolding.
Or if the cuck husband gets off on being denied his wife's pussy, she may opt to only have one man allowed to cum in her.
The bottom line?
When your sexy hotwife comes home after body-shaking sex with an exciting stud…
Her pussy leaking with his seed…
That is erotic AF. And all you stags and cucks know it.
You're both taking a risk. She could get pregnant (but maybe you want that?) She could catch something (you don't want that). She might develop an intimate emotional connection with the bull that neither of you want.
But watching another guy dump his balls into her pussy…
Seeing his seed drip out of her when she gets home and drops her panties…
That gets your dick hard just thinking about it, doesn't it cuck?
If you like reading about filthy hotwives doing dirty things with men who aren't their husbands, you can apply to join our exclusive members-only email newsletter.
It's 100% free, discreet, and respectful of your privacy. You can apply to join us on the inside using this link: