This sexually-energetic bad-girl started going commando at work, where she wears short skirts and dresses. All the guys she works with have started to notice…
There's nothing that a cuckold wants more than a slutty woman in his life.
Nothing signals slutty like going out in public, in a skirt, with no panties on.
That's what this naughty young lass we found over on Reddit's r/SluttyConfessions discovered: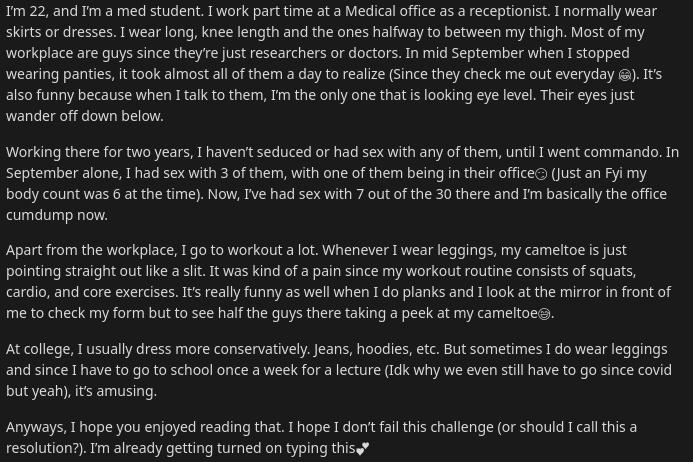 No mention of a boyfriend here, sadly, but don't distress. If cuckolds and stags are good at anything, it's using the power of imagination to fuel their slut-wife fantasies.
What would it be like if this panty-less nymphet in training were your girlfriend or wife-to-be?
Here's three things we think you'll love about this story:
She's around lots of men–at work, at the gym, at university
She keeps in shape
She gets off on male attention
---
She's around lots of men, signaling her availability for sex
One of the major problems facing the would-be cuck is getting his wife 'into the mood'.
The sad truth that we hear over and over from our subscribers?
"I really want my wife to get with another guy. How can I talk her into this fantasy?"
Your major problem, cuck, is that you can't.
You can't talk any woman into fucking any guy she doesn't want to fuck.
But here's the thing about that.
While you can't force it to happen…
You can see to it that the odds line up in your favor.
This kinky young slut going to work without panties discovered one way to hack the process.
She's created a positive feedback loop. The sluttier she acts, the more erotic energy she gets back. The more erotic energy, the more incentive she has to act slutty.
This girl spends her time at an office full of men… at the gym… and at the university. She's around men all the time.
Going out without panties escalates these ordinary activities into a game. Her prize is all of the male sexual energy she receives for playing.
Being around men with an electric sexual charge in the air is how many affairs start in civilian (monogamous non-cuckold) marriages.
The difference is that the cuckold wants that to happen.
She keeps her body in prime condition like a good fuck-slut should
The gym is, in this blog's opinion, an underrated experience for cuckold couples.
For the hotwife especially the gym is a powerful source of sexual energy.
There will be many fit and attractive people.
She will be pushing her body, which we know to elevate testosterone and increase libido even in women.
Not only that, she will keep her body in top condition, which is essential for a rewarding sex drive. Face it, sex is just better when you're in shape.
Combine that with many willing and capable young men, and you'd best be making sure your vixen hotwife has a gym membership, cuck.
Exercising without panties on will only fuel that fire.
What every man must know about female sex drive
All of this advice comes back to a simple principle that, still, most men do not understand.
As we like to remind you around here, women's sex drive is narcissistic.
If you want her lubed up and ready to get dirty, then she needs to feel desired by men.
This is the fatal downside for most cuckold men, who are coming at this fantasy from a submissive posture. She needs domination and you aren't giving it to her.
But there's an upside, too.
By going to her job with a short skirt and no panties–making sure every guy in the office knows it–she's making herself into the center of attention for lots of men.
Lots and lots, from the looks of her story.
Even if she's hesitant to go through your fantasy all the way, just putting her in a position with lots of male energy is going to pique her curiosity.
Every hotwife began as a curious wife.
You better believe that any cuckold man in a relationship with a woman like that will be in heaven, no matter how much of a sub he might be.
It's much easier to convince her if she's convinced herself… and all you have to do, cuck, is give her your blessing.
---
Cuckolds, encourage your girlfriend or wife to go 'commando'
Maybe we're reading too much into this story. Our editorial team is cursed with confirmation bias, true enough. We see opportunities for cheating wives and cuckolding everywhere.
But that's why you're reading, right? Sexy sluts are boring unless they're stepping out on a cuckold at home.
No harm in using imagination to play around.
As for you serious cucks and aspiring hotwives, get those panties off!
Dare her to head out in a short skirt without panties.
Encourage her to wear that sundress sans culottes.
She'll feel secretly slutty inside, which is the key.
All the more if she's going to be around a lot of guys.
Male sexual energy plus confident female sluttiness is a recipe all cuckolds should be familiar with.
And if you meet a girl like our adventurous panty-free bad-girl, cuck, keep an eye on her. She might be just what you're looking for.
---
It's 100% FREE & DISCREET. Make sure you don't miss a single word of our spicy, steamy, most sinful writing about hotwifing and cuckolding.
Click this link and apply to join our member-only mailing list with over 500 kinky readers just like yourself: https://wanthertocheat.com/join
---